Tuesday, September 16, 2014
Colorado Med Device Company dBMEDx Wins the Venture Showcase Competition at BioWest 2014
dBMEDx (Littleton)
won the 2014 Venture Showcase competition at the BioWest Conference and Expo yesterday at the Marriott City Center Denver, receiving the $7,500 cash prize. The announcement is made by April Giles, Colorado BioScience Association (CBSA) President and CEO who says, "We are very proud to announce dBMEDx as the winner of the Venture Showcase. The check presentation was an exciting end to the BioWest Conference. The award not only includes the cash prize of $7,500 but also includes recognition and exposure for the company. " This award is sponsored by Dorsey and Whitney LLP and The Metro Denver Economic Development Corporation. BioWest, the Rocky Mountain Region's premier medical device and biotechnology conference, is organized by the CBSA and held every other year.
dBMEDx is a Colorado-based medical device development company that is creating clinical decision and patient monitoring devices using its patented, non-invasive scanning technology. These devices combine the power and safety of ultrasound with sophisticated image processing electronics and software to provide simple, fully automated and completely noninvasive diagnostic measurements. Fully automated means that very little training is required and the user does not need any experience with ultrasound to use our devices. To enable this level of automation, dBMEDx has successfully created and patented an extremely compact, wireless, 3D scan engine.
The scan engine, which can be held in the palm of the hand, includes a complete 3D ultrasound imaging machine and automated image processor within a small, sealed tube. The system also includes an integrated Bluetooth radio and rechargeable battery, which is inductively charged. The company is in the process of commercializing the first application for this technology, the BBS Revolution™ device for automated bladder volume measurement, and has a range of pipeline of products for other clinical applications as well. Visit:
http://www.dbmedx.com
.

Video of winning Venture Showcase pitch by dBMEDx CEO David Shine:
http://youtu.be/TUoQK71wPEU
The Venture Showcase format allowed each company's lead executive to make a 15-minute presentation with an accompanying slide deck explaining their technology and business plan to a panel of judges in front of a live audience. This year's judging panel included the following:
• Michael Weiner, Partner, Dorsey
• Ned Scheetz, Managing Director, Aphelion Capital
• Steve VanNurden, President and CEO, Fitzsimons Redevelopment Authority
The three 2014 Venture Showcase finalists included:
dBMEDx – Littleton
http://www.dbmedx.com
KromaTiD, Inc. - Fort Collins
http://www.kromatid.com
Mighty Oak Medical – Englewood
http://www.mightyoakmedical.com
The BioWest Conference was attended by more than 300 industry leaders, government representatives, executives, researchers, investors and entrepreneurs. "We look forward to the continued growth of the bioscience industry and presenting the conference in again 2016," Giles concludes.
Link to the related Business Wire
Link to the PitchEngine Social Media Release
12:10 pm mdt
Monday, July 7, 2014
New Issue: Bioscience Colorado Magazine 2014-15 Article Overview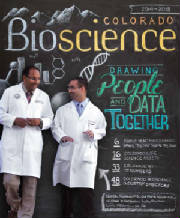 Make sure to check out these "great reads" -- and save the new directory for future use.

The complete flip book of the issue can be found online at:http://www.cobioscience.com/magazine2014flip-book/

Articles - Direct Links:

Mobile Health in Colorado: Where "Big Data" Sparks Big Ideas

Biodesix Harnesses Machine Learning and Analytics to Tackle Multivariate Diagnostics

Bioscience in Colorado Continues to Shine with U.S. Senator Michael Bennet

Colorado Life Science Assets: A Sophisticated Repertoire of Clinical-Stage Therapeutic, Device and Diagnostic Products

U.S. Hub: Colorado Is Where Drug, Device and Therapy Intersect

Boettcher Investigators: Webb-Waring Biomedical Research Program

Found in Translation: Rocky Mountain Lions Eye Institute Translational Research Programs Focus on Innovative Treatment of Eye Diseases

Tech Transfer Offices Connect the Dots between Research and the Marketplace, Stimulate State's Economy

Colorado Bioscience Industry by the Numbers: Financing and Acquisitions

Colorado Bioscience Grant Programs: Innovation Engines

Colorado Bioscience Industry Directory – updated company information – great to keep on file

Bioscience Colorado magazine is an integral part of the Association's mission to support the Colorado bioscience community through advocacy, resources and advancement of opportunities for collaboration. It reaches thousands of bioscience, economic development, legislative, university and industry leaders. Colorado's bioscience assets are also valuable. Device, diagnostic and therapeutic products created here have a significant economic impact—27,000 in total workforce— translating to over $10 billion in the State's economy each year. In addition, over 60 acquisitions, financings and grants, totaling over $4 billion, were reported within the 2013 calendar year, further developing the industry's ecosystem.

Download the new magazine pdf at: http://www.cobioscience.com/Magazine%202014/CBSA_magazine_061314-lowres.pdf
12:59 pm mdt
Friday, April 4, 2014
Happy 50th! to PRSA's Accreditation in Public Relations Program...and many more...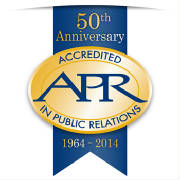 Background from the Public Relations Society of America (PRSA):

"2014 marks the 50th anniversary of the Accreditation in Public Relations (APR), the profession's only national credential. In addition, to celebrating the APR's position as the industry's gold standard for professional excellence, April has been designated as APR Month."

Maggie Chamberlin Holben, APR, has been an accredited PRSA member since 1985.

Here's a look back at Maggie's announcement from 1985 (no she hasn't been accredited the full 50 years that APR has existed)...that's a Columbia portable computer with dual floppy disk drives in the photo (you had to know DOS language to run it). The printer was dot matrix. Boom boxes were the iPod of the day. Maggie liked cats back then (notice the ceramic one on her desk):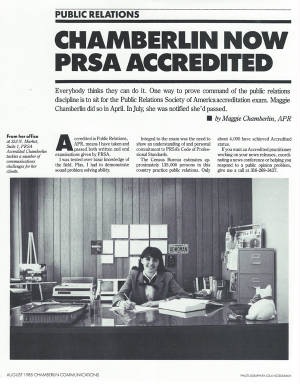 10:23 am mdt
Friday, August 23, 2013
Viewpoint: 'Building more investors is vital to the Colorado economy'

Quoting from today's posting in the Denver Business Journal:

"Since January 2011, we've created 97,000 jobs and now have 2.4 million jobs in the state — prerecession levels. And we have the fourth-fastest job growth in the nation. We are continuing to successfully woo a number of industries and we're enhancing our advanced industries with a 10-year, $150 million investment.

We are just missing one key piece of the economic pie: investors. Venture-capital investment is critical to the growth of successful startup companies...

...We're working on creating more funding opportunities. OEDIT, in partnership with the Colorado BioScience Association and Johnson & Johnson Development Corp., established the Rocky Mountain Life Science Investor and Partnering Conference (RMLIPC) in 2009. Celebrating the third biennial conference on Sept. 19, RMLIPC will bring together more than 50 investors to Denver to showcase 30 regional startup companies in the biotech, diagnostic, medical device and pharmaceutical industries. The Rockies Venture Club, along with the Impact Angel Group, are working their connections with local angel investors and entrepreneurs."

Link to the OpEd piece authored by Ken Lund
1:34 pm mdt
Rocky Mountain Life Science Investor and Partnering Conference Announces Thirty Regional Companies for 2013 Presentation Lineup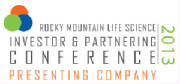 Denver, CO, August 12, 2013 – Thirty companies from Arizona, Colorado, Montana and Utah have been chosen to present at the 2013 Rocky Mountain Life Science Investor and Partnering Conference (RMLIPC), September 18-19, at The Ritz-Carlton in Denver, Colorado. The announcement is made by April Giles, President & CEO of the Colorado BioScience Association (CBSA), on behalf of the RMLIPC Selection Committee, who says the presenting companies were selected from more than 60 applicants by a committee of investors and industry experts.
2013 Rocky Mountain Life Science Investor and Partnering Conference Presenting Companies:

AmideBio, LLC - Boulder, CO - http://www.amidebio.com
Biodesix - Boulder, CO - http://www.biodesix.com
BioFusionary - Wheat Ridge, CO - http://biofusionary.com
Boulder Diagnostics - Boulder, CO - http://www.boulderdiagnostics.com
Convoy Therapeutics - Oro Valley, AZ - http://www.convoytx.com
DiscGenics - Salt Lake City, UT - http://discgenics.com
EndoShape - Boulder, CO - http://endoshape.com
ENDURX Pharmaceuticals, Inc. - Oro Valley, AZ - http://www.endurxpharma.com
FitBionic - Boulder, CO - http://www.fitbionic.com
Lazarus Medical Technologies - Salt Lake City, UT -http://www.lazarusmedtech.com
Lineagen - Salt Lake City, UT - http://www.lineagen.com
MBio Diagnostics - Boulder, CO - http://mbiodx.com
MSDx - Tucson, AZ - http://www.msdx.co
Nasseo, Inc. - Peoria, AZ - http://www.nasseo.com
Neuro Assessment Systems - Littleton, CO - http://www.neuroassessments.com
Prima-Temp, Inc. - Boulder, CO - http://prima-temp.com
Regenesis Biomedical - Scottsdale, AZ - http://www.regenesisbio.com
Renaptys Vaccines, LLC - Aurora, CO - http://www.renaptys.com
Rocky Mountain Biologicals - Missoula, MT - http://rmbio.com
Sharklet Technologies, Inc. - Aurora, CO - http://sharklet.com
Sinopsys Surgical - Boulder, CO - http://www.sinopsyssurgical.com
Surefire Medical - Westminster, CO - http://surefiremedical.com
SuviCa - Boulder, CO - http://suvica.com
Transverse Medical - Evergreen, CO - http://www.transversemedical.com
Ventria Bioscience - Fort Collins, CO - http://ventria.com
VetDC Inc. - Fort Collins, CO - http://www.vet-dc.com
Vivaldi Biosciences - Fort Collins, CO - http://www.vivaldibiosciences.com
Wasatch - Salt Lake City, UT - http://www.microfl.com
Xalud Therapeutics, Inc. Boulder, CO - http://www.xaludthera.com
Xenograft Corporation - Missoula, MT - http://www.ihimontanafoundation.org

The 2013 Rocky Mountain Life Science Investor and Partnering Conference – spearheaded by the Colorado BioScience Association in collaboration with associations in Arizona, Montana, New Mexico and Utah — will open with a reception at the Colorado Governor's Mansion September 18th and follow with a full day of company pitch presentations September 19th. The keynote breakfast will include Kyle Lefkoff, founder and General Partner of Boulder Ventures, leading a conversation with the CEOs of Colorado's two premier publicly-traded pharmaceutical companies-Patrick Mahaffy, Founder and CEO of Clovis Oncology and Ron Squarer, CEO of Array BioPharma. The keynote lunch will be a presentation from Johnson and Johnson Development Corporation executive leadership. For more information and registration details, visit http://www.RockyMtnBioInvest.com

On Twitter, please use the hashtag #RockyMtnBioInvest for your tweets.

Link to the PitchEngine social media release
1:32 pm mdt